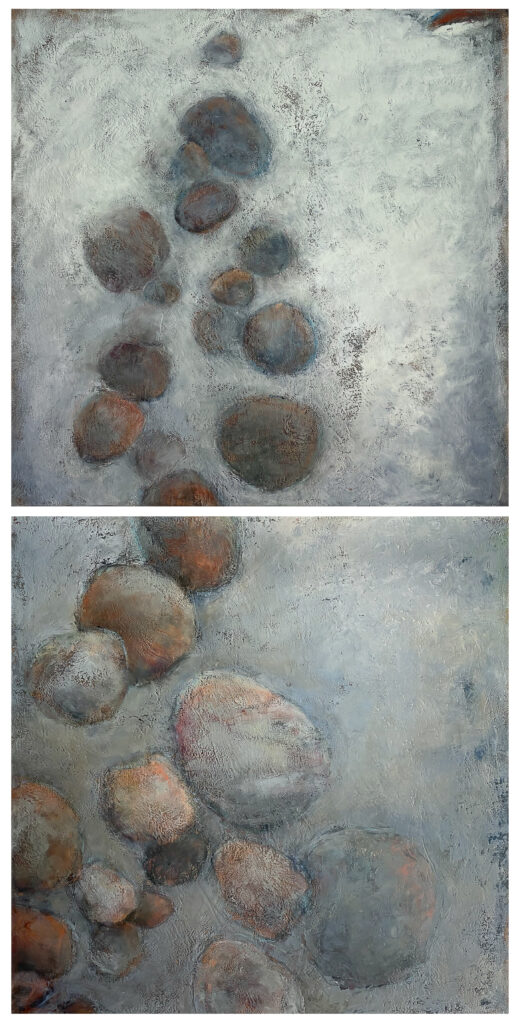 On July 23rd, 2018, I witnessed a 10' flash flood tear past my Santa Fe home. A tsunami in a quiet valley, washing downstream animals, debris, and tumbling boulders, leaving behind a raw and reordered landscape. 
It was after this event that my work went from the universal to the personal, reflecting my newfound understanding that our sense of presumed control over the environment no longer applied to the "new norms."
I grew up in the Pacific Northwest, where my backyard was old growth forests, freshwater lakes, and the Puget Sound. As a family we collected stones from glacial rivers, desert lava flows, and endless beach walks. These stones became part of my early landscape, gracing our garden and my mother's bonsai collection. When my childhood home was sold on my parents' passing, I transported these stones gathered over the years of exploration to my own home.
I work between studios in Seattle and Santa Fe, places where people carry smooth, tumbled stones or healing quartz in their pockets. In my travels I have connected with others who have placed stones they carried from the valley to the mountain summit. Tiny stones have warmed my bare feet on ocean beaches. I have visited venerated stones wrapped with white cloth, coated with vermillion powder, covered in gold leaf offerings or washed in sacred waters. These journeys are bound together in memory with stones on my alter.
Archetypal elements mark the landscape of earth and stone, standing as vestiges of time. My layers of wax and oil stick acknowledge these pathways with marking, scarring, and erasing. Scraped lines chart breaks in the microcosm of earth or celestial vaults of the universe. Water, earth, wind, fire, and ether emerge in physical form in my work: beeswax and resin; graphite and oil stick; wood, paper, and cloth; glass and stone; and lead sheet, wire, and precious metal leaf. Paintings often reference the horizontal line between the sky and earth. The possibility of hope for our environment and ourselves as humans comes in the form of the returning light in the morning sky.
My work encompasses sculpture, painting, and photography — at times a combination of each of these media — offering flexibility and congruity to the exhibition undergirded by an awareness of sacred space. Stone paintings, and the physical stones gathered from my living landscapes, flow throughout the space as an interaction of color and form. The red presented in wax and paint represents the energy flowing between the ether and the earth, as well as our connection to all sentient beings.
Within these bodies of work, I often use the repetition of the number 108, which has powerful meanings, especially in Eastern religions and traditions. Repetition as a practice facilitates focus, leading to an inner center of quiet; with a commitment to this ritual of patterns comes simplicity.
wind waits on still stone
with the silence
of listening trees
to join
the upward wings
of ravens
toward a sky
of memories
The reverence for the power and sacredness of stones spans historical and cultural memory. In this chaotic world, where it is difficult to feel a part of the whole – personally, politically, and spiritually – there must be an acceptance of what cannot be corrected. Hopefully we will continue to find ways to understand and bond, not only to our environment, but most importantly, to each other.
CES
March, 2021