Lauren Ashbrook, Co-Editor in Chief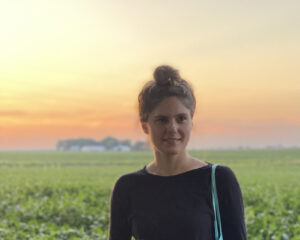 Lauren Ashbrook is a Master of Environmental Management candidate at the Yale School of the Environment. Her research focuses on soil health, climate adaptation, and rural livelihoods. She's currently serving as a digital manager for the Yale Program on Climate Change Communication. Before graduate school, Lauren spent four years working in strategy and communications at Indigo Ag. She holds a bachelor's degree in Ecology & Evolutionary Biology from Yale College. One day, Lauren hopes to farm herself and tends to write about real or imagined acres.
---
Sawyer Cresap, Co-Editor in Chief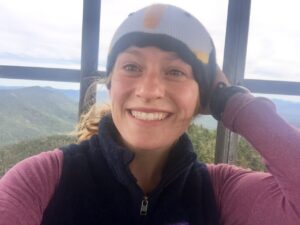 Sawyer is in her second and final year of graduate work pursuing a Master's in Environmental Management degree. She is passionate about people and place, and unearthing the systems, histories, and values beneath our land-related conflicts. Sawyer has worked for several nonprofit organizations, including the Mohawk Hudson Land Conservancy and the Blue Mountain Center, an artist residency and progressive movement building center. In addition to being a writer and conservationist, Sawyer is also a thru-hiker and an aspiring filmmaker.
---
Sam Feibel, Arts Editor

Sam is a first-year student in the Masters of Environmental Management program. With a background in Geology, he has investigated the legacy of historic mill dams in the Chesapeake Bay Watershed and served as an Agriculture Food Security Advisor in the Peace Corps in Madagascar. He is interested in land use history, ecological restoration, and applications of remote sensing and geospatial data. Sam is a photographer who uses his camera to connect with people and tell stories. His favorite images capture the intimate connection between his subjects and their environment.
---
Shaylyn Austin, Managing Editor

Shaylyn is a first year Master of Forestry candidate at the Yale School of the Environment. Previously, she worked as a field researcher in Kalimantan, Indonesia, and then on a trail and restoration crew in her home state of California. She is passionate about community-centered, sustainable forest management and seeking place-based solutions to complex environmental issues. When not playing or working in a forest, you'll find her basking at the nearest beach.
---
Elizabeth Himschoot, Editor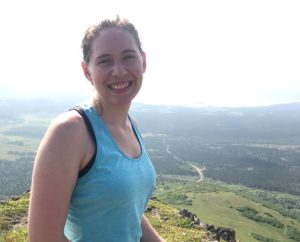 Elizabeth Himschoot is a Master of Environmental Management candidate at Yale School of Forestry and Environmental Studies specializing in Ecosystem and Land Conservation and Management. She is interested in landscape management for biodiversity conservation through the use of cooperative land management and conservation strategies inspired by multiple ways of knowing. Before coming to Yale, Elizabeth worked at the Smithsonian National Zoo and Conservation Biology Institute participating in animal nutrition and conservation research for two years. She received a B.S. in Biological Sciences from the University of Alaska – Fairbanks in 2017.
Previous Staff
2020
Editor in Chief
Trevor Dolan
Managing Editor
Karam Sheban
Arts Editor
Samuel Cordon
Staff Editors
Megan Edwards, Abigail Chan, Pat Wiedorn, Emma Johnson, Elizabeth Himschoot, Maximillian Schreck, Britta Dosch, Becca George
2019
Editor in Chief
Caleb Northrup
Staff Editors
Trevor Dolan, Karam Sheban, Sam Corden, Emma Johnson, Jen Shin, Meredith Brown, Alejandra Hernandez, Michael Storace, Nick Lo
2018
Editor in Chief
Mark DeSantis, Natural Resource Policy Analyst at Congressional Research Services
Senior Editor
Noah Sokol
Associate Editor
Rachel Gulbraa, Recreation and conservation consultant at WCS Adirondacks; Writer at Yale Climate Connections
Digital Communications Manager
Rachel Weston, Rachel Weston, Natural Resource Manager (NRM) Coordinator (Region 10) at US Forest Service
Staff Editors
Laura Brush
Nathalie Woolworth, National Partnership Coordinator at US Forest Service
Faculty Advisor (2006-2018)
Fred Strebeigh
2017
Editor in Chief
Max Webster, Evergreen Forests Program Manager at Washington Environmental Council
Creative Director
Alex Co, Pittsburgh Living Product Hub Coordinator at International Living Future Institute
Senior Arts Editor
Allyza Lustig, Senior Associate, Program Coordinator at United States Global Change Research Program
2016
Editor in Chief
Will Murtha, Emissions Markets and Policy Reporter at Argus Media
Senior Arts Editor
Katie Christiansen Holsinger, Editor at The Artists Field Guide to Greater Yellowstone
Features Editors
Shelley Clark, Legal Assistant at The Chanler Group
Elias Kohn, Lewis and Clark Environmental Law Fellow
Breanna Lujan, Global Climate Program Assistant at Environmental Defense Fund
2015
Editor in Chief
Timothy Brown, Writer, Editor and Multimedia Storyteller at Yale School of Forestry & Environmental Studies
Managing Editor
Joseph Calamia, Senior Editor at Yale University Press
Features Editor
Sarah Austin Casson, Yale Law School Peter and Patricia Gruber Fellow in Global Justice at The WILD Foundation
Contributing Editors
Paul Burow, PhD Student at Yale University
Kristin Dreiling, Practice Manager, Environment and Natural Resources at Chemonics International
Christopher Halfnight, Policy Manager at Urban Green Council
Gina LaCerva
Amy Weinfurter, Research Analyst at Yale Data-Driven Environmental Solutions Group
2013
Editors in Chief
Ben Goldfarb, Correspondent at High Country News
Jason Schwartz
2012
Editors in Chief
Aaron Reuben, Science Writer, Conservationist, Neuropsychologist-In-Training
Michael Parks, Executive Director, San Francisco Business Council on Climate Change
2011
Thomas Chase, Project Manager, New Ecology, Inc.
Dylan Walsh, Freelance Writer